The main objective of the Scientific and Technological Centers (CCT) is to ensure appropriate spaces to conduct scientific and technological research and development in adequate physical spaces.
The CCT have to promote the interrelation of the Implementation Units (UE) and the research groups in their insertion area, to provide support services first and foremost to the Implementation Units and the research groups that are linked and to third parties. The Centers also have to join and cooperate with the dissemination to the community.
The CCT can promote the building of technological parks or businesses incubators to boost the interaction with the productive sector of goods and services.
They depend on the administration of CONICET and they have a governing board for its creation, government and functioning regulated by Decree 310/2007. Some CCT cover several provinces and others one sub-region of those provinces.
Currently, CONICET has sixteen CCT located in the following cities: Mar del Plata, Rosario, Salta, San Luis, Santa Fe, Tandil, Tucumán, Bahía Blanca, Mendoza, San Juan, Córdoba, La Plata, Puerto Madryn*1, Bariloche*2, Corrientes*3 and Neuquén*4.
*1 CCT CONICET National Patagonian Center (CENPAT) is located in the city of Puerto Madryn and it covers the provinces of Chubut and Río Negro.
*2CCT CONICET Patagonia Norte is located in the city of San Carlos de Bariloche and it covers the provinces of Río Negro and the north of Chubut.
*3CCT CONICET Nordeste is located in the city of Corrientes and it covers the provinces of Chaco and Misiones.
*4 CCT CONICET Patagonia Confluencia is located in the city of Neuquén and it covers the province of La Pampa.
The Governing Board comprises the directors of the Implementation Units that are part of it. Each CCT has one Territorial Administration Unit (UAT): unit of administration, provision of services and technology transfer whose objective is to ensure the efficient administrative work of the Implementation Units optimizing the use of resources.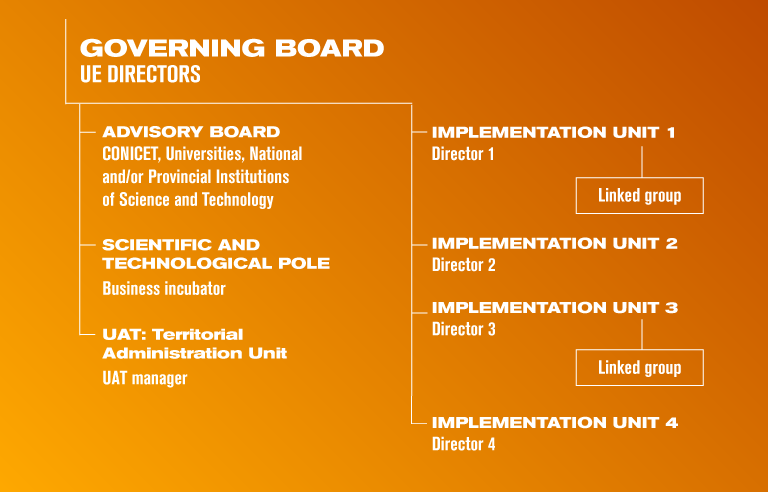 ---
Link